Lifetrons 6-In-1 RF Facial & Eye Rejuvenating Ultimate Beauty Box
This ultimate beauty box consists of 1 Ultimate Facial Kit with 6 Functional Skin Treatment Technologies (RP-100); 1 RF Eye Rejuvenator with Ions & Heat Therapy (RE-100); and 1 RF Facial Gel 50g - specially formulated for all skin types on RF treatments, as well as 1 Ultra Facial Lift with Microcurrents & Light Therapy (EP-400B).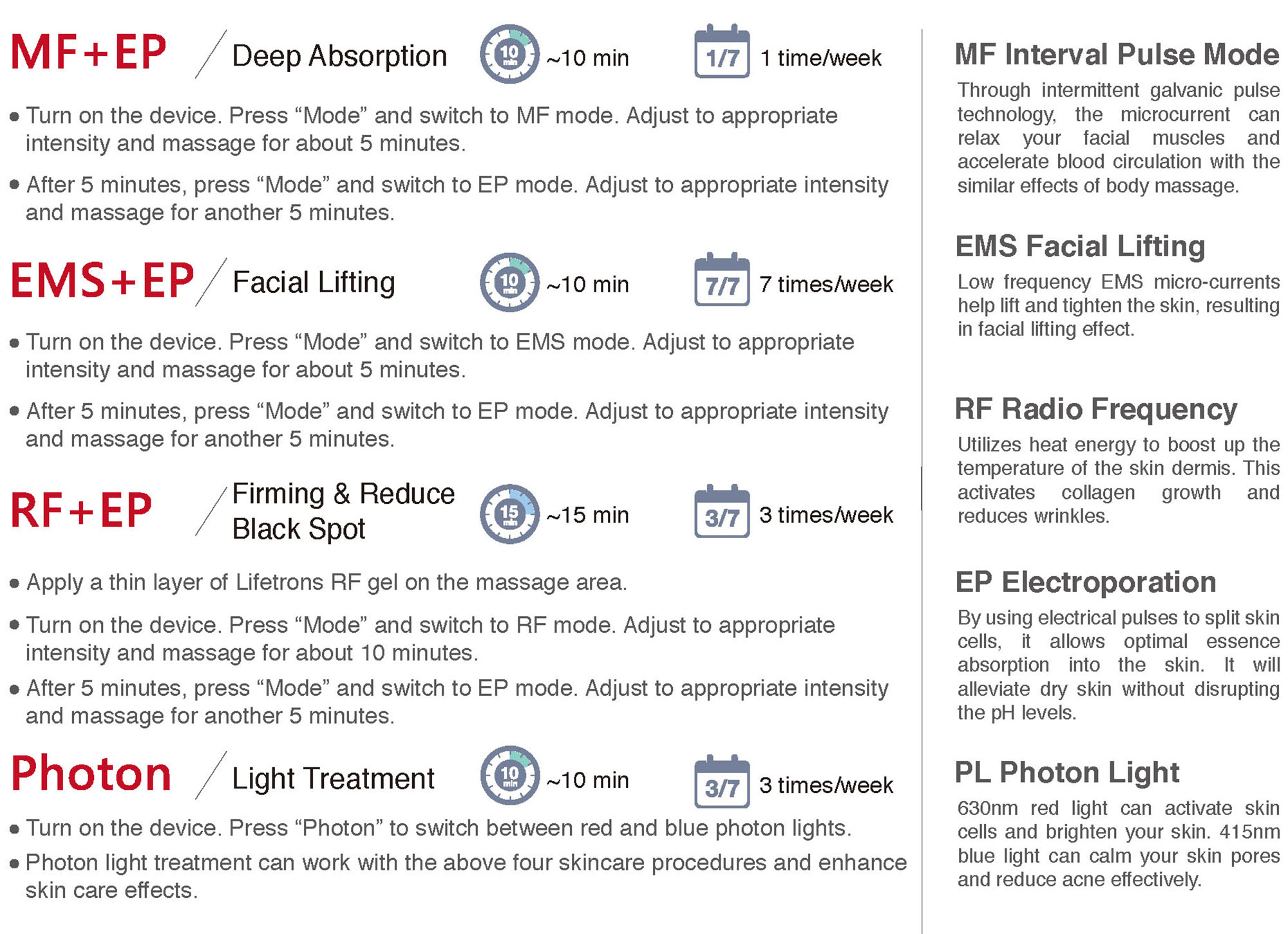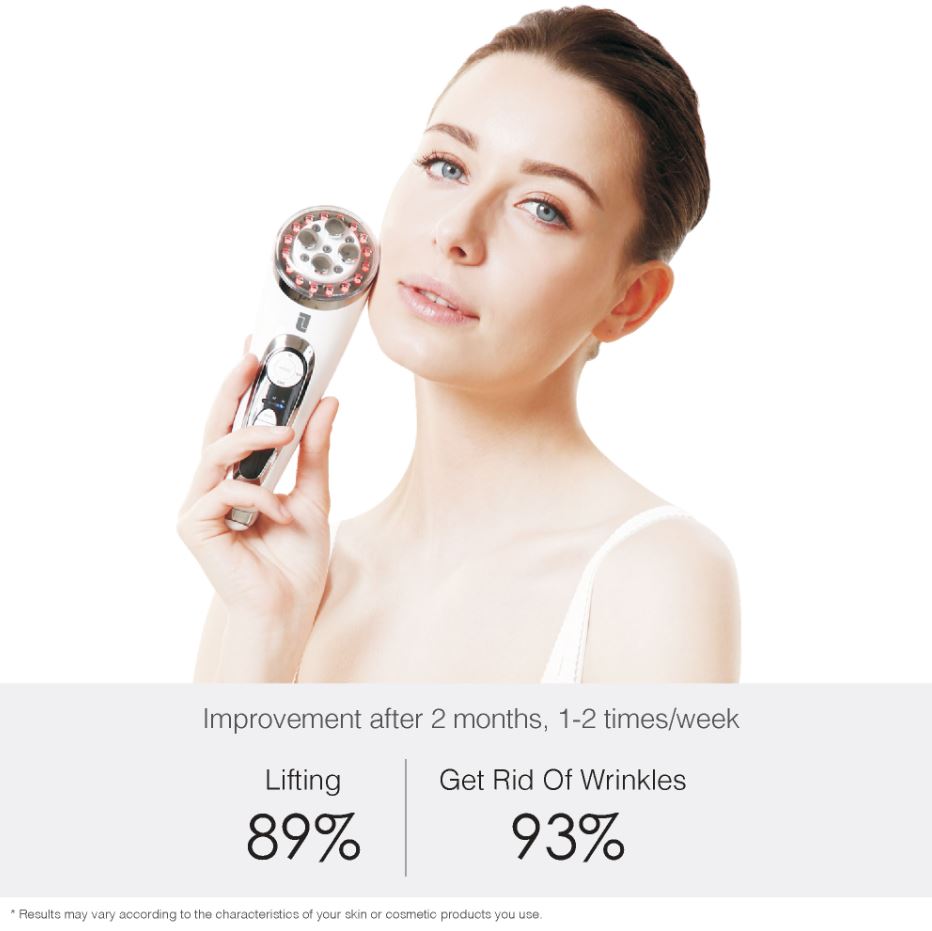 Radio frequency rejuvenator for eyes - Effectively lift eye muscles, lighten black circles, relieve eye bags, facilitate essence absorption and massage eyes
Radio frequency utilizes heat energy to boost up the temperature of the skin dermis. This re-activates our cells and boosts the creation of collagen, hence firming your skin and relieving eye bags.
Heat therapy accelerates skin blood circulation so as to relax eye muscles and relieve pressure
Negative ions facilitate nutrient and essence absorption
Micro-vibration stimulates and relaxes facial muscles. This process can accelerate nutrient delivery and relieve soreness
The treatment head is made of 316 medical graded stainless steel
Recommended by Switzerland beauty expert
Swiss Design
Beauty Effects
Restore Skin Elasticity - Boost Collagen Growth
This eye rejuvenator combines heat therapy and radio frequency. Radio frequency utilizes heat energy to boost up the temperature of the skin dermis. This re-activates our cells and boosts the creation of collagen, hence firming your skin and restoring skin elasticity.


Accelerate Nutrient Absorption
Negative ions facilitate nutrient and essence absorption with the homopolar principle. The ions break down the essential ingredients into water-soluble ions which largely improves the permeability of skincare essence around eyes muscles.

Relax Eye Muscles
Low-frequency micro-vibrations (200 per second) help transfer active skincare ingredients among skin cells, improve circulation and relieve fatigue.

Product Features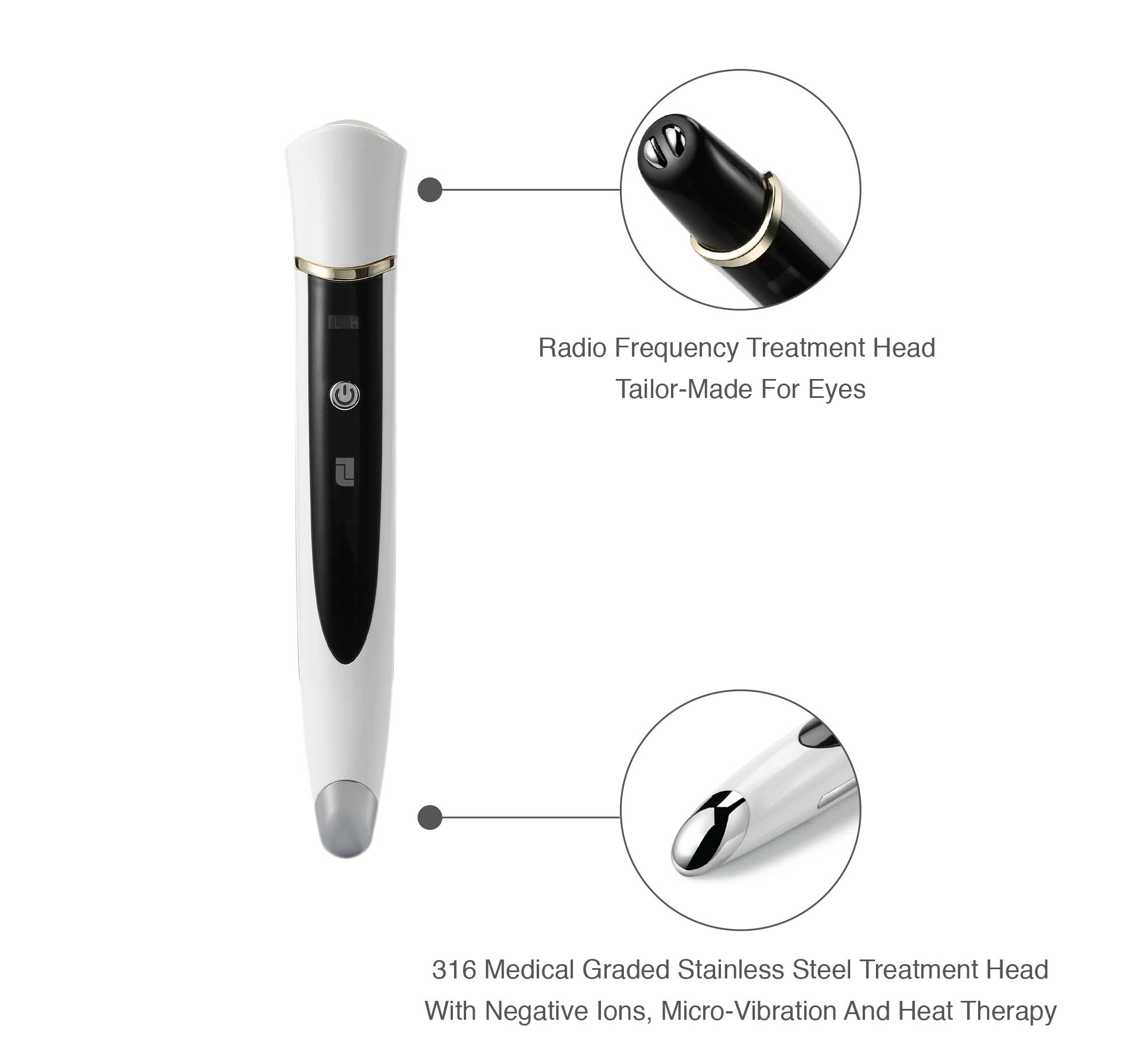 Professional Technologies



Blogger Recommendation


Product Specifications
Dimension: 190 x 50 x 40 (mm)

Power source: USB

Battery capacity: 800 mAh

Origin: Switzerland

Designed in: Switzerland

Produced in: China

Warranty: 1-year international warranty

Weight: 143g

Model: RE-100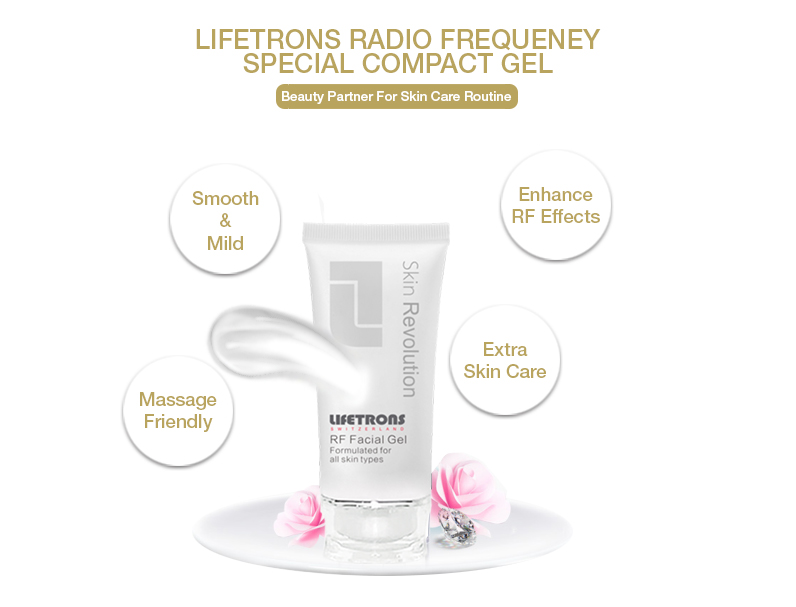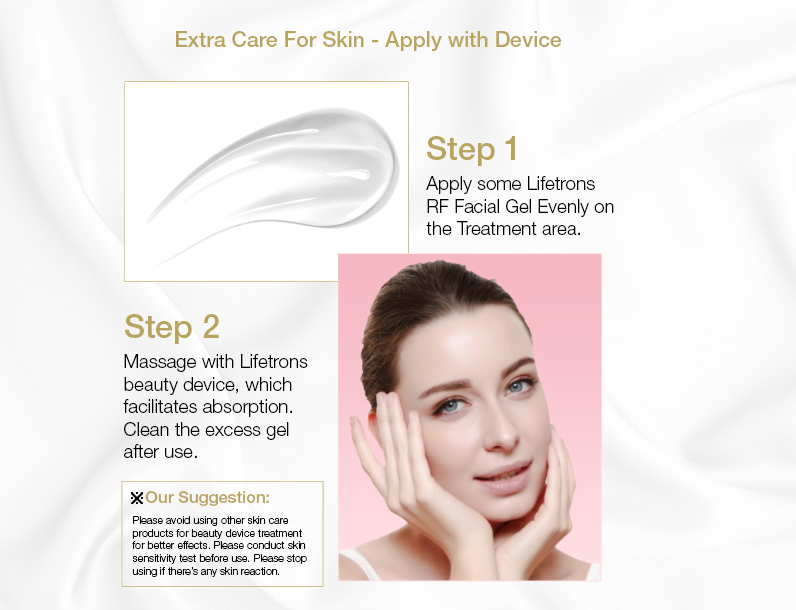 Product Description:
Radio Frequency (RF) facial gel is specially formulated to prepare our skin for the delivery of radio frequency heating energy into the skin's deepest layers. Not using a gel or using any other substance can lessen or block the effectiveness of the radio frequency device. To get the most out of your Lifetrons devices, please always use the RF Facial Gel during treatment.
Ingredients:
AQUA, GLYCERIN, GLYCERYL POLYMETHACRYLATE, PROPYLENE GLYCOL, BUTYLENE GLYCOL, CARBOMER, GINKGO, BILOBA, ALGAE EXTRACT, ARBUTIN, CITRIC ACID, ACETYL TYROSINE, SODIUM SULFITE, SAXIFRAGA SARMENTOSA, PAEONIA SUFFRUTICOSA, AMINOPROPYL ASCORBYL PHOSPHATE, SCUTELLARIA BAICALENSIS, GLUTATHIONE, SODIUM HYALURONATE, TRIETHANOLAMINE, PHENOXYETHANOL, ETHYLHEXYLGLYCERIN, FRAGRANCE
Method of use: Apply a thin, even layer of Gel on the area to be treated.
Suitable For: All skin types (except for sensitive skin)
Caution: Store in a cool environment, please stop using immediately if any discomfort on skin.
Authorized by: Lifetrons Switzerland AG
Expiry date/batch number: 20230708/4TS010S

How to apply RF Facial Gel with RP-100 device?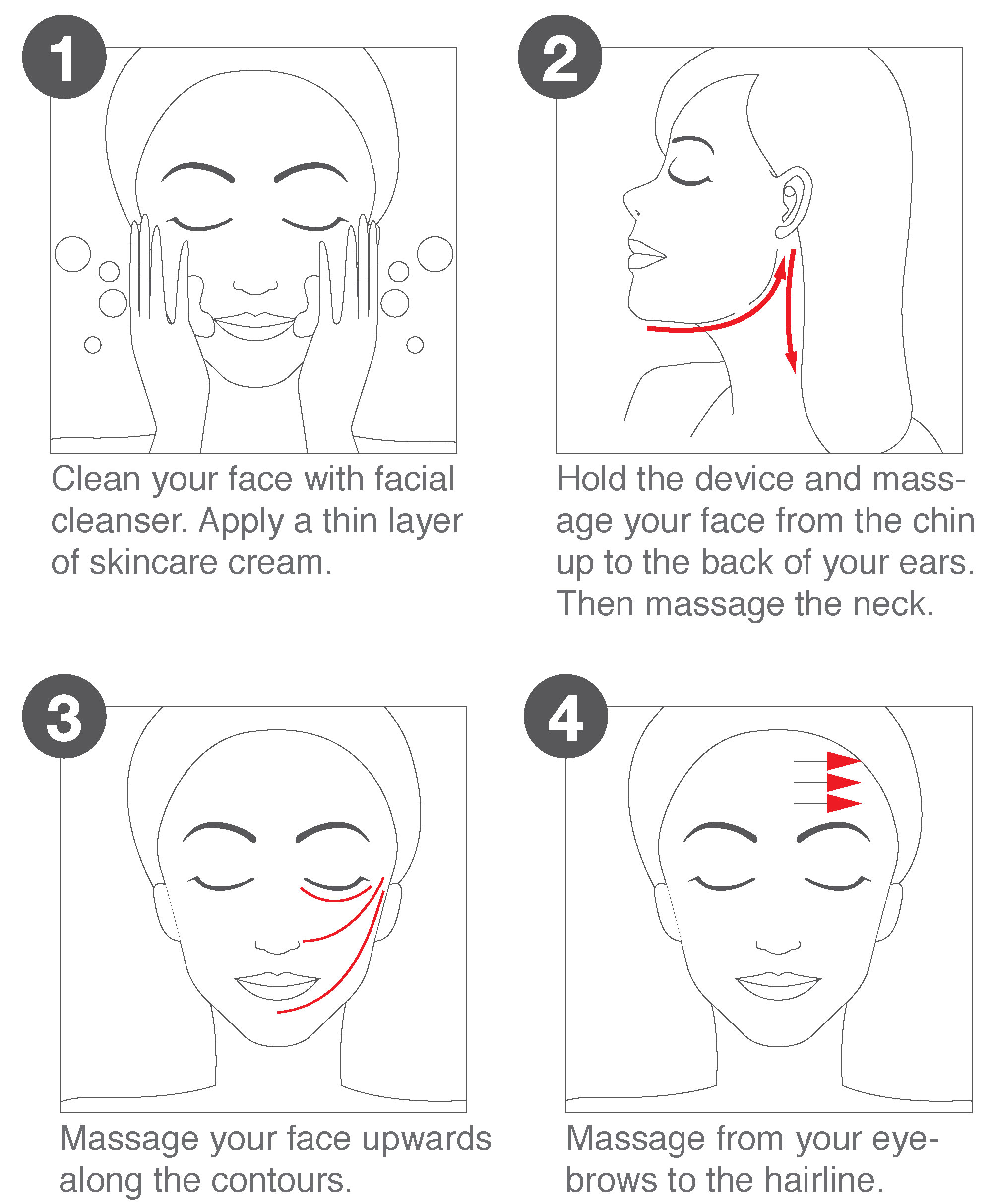 USA FDA CERTIFICATION - SWISS BRAND LIFETRONS 3-IN-1 BEAUTY DEVICE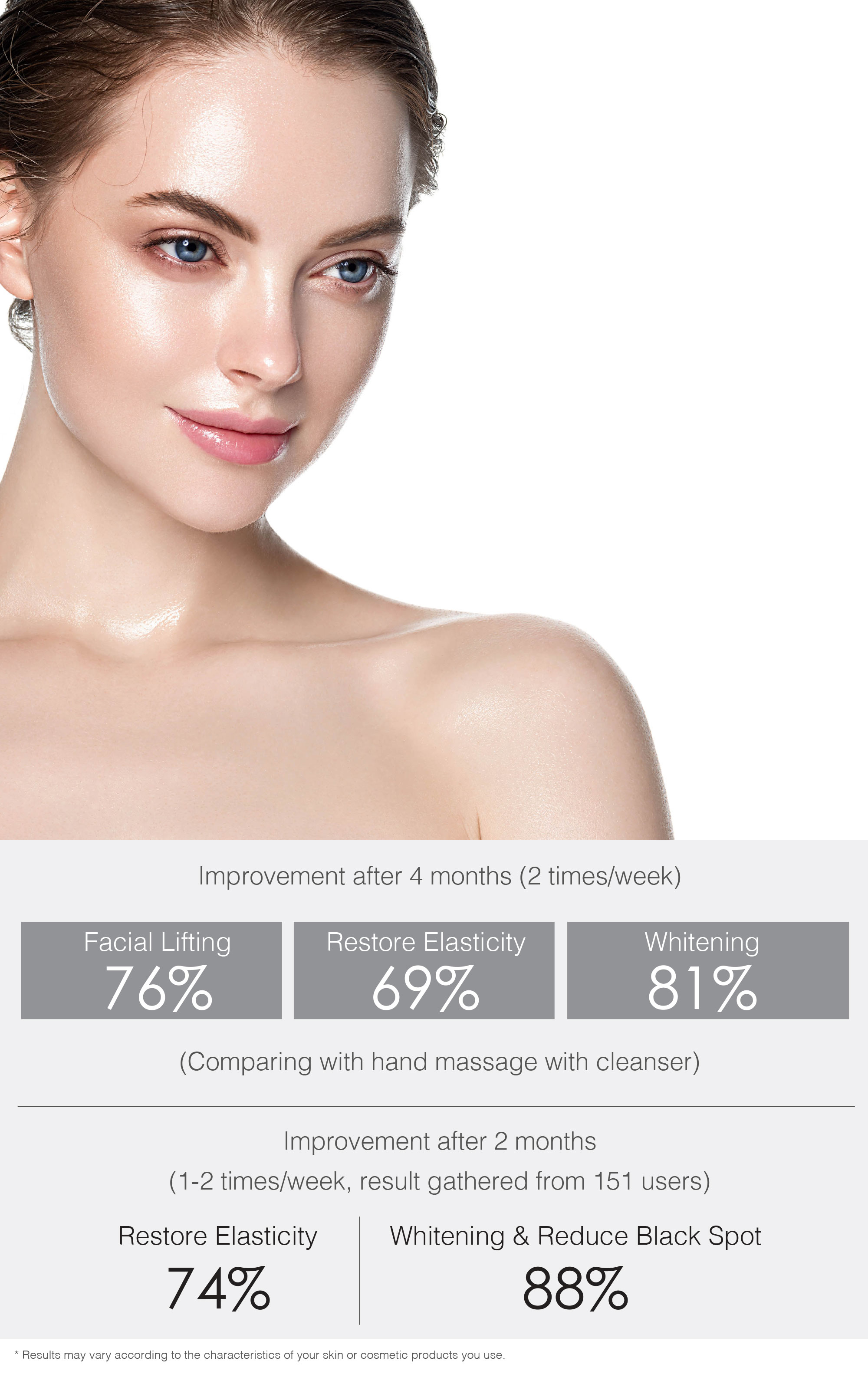 Fine lines and black spots will gradually appear on our faces while ageing. No need to be worried! Lifetrons Ultra Facial Lift can help you solve all the skin troubles:
Stay overnight and not enough sleep cause facial oedema
Wrinkles and fine lines start to form
Heavy Black Circles
Ageing and loose skin muscles
This device satisfies all your skincare needs. It solves all the above skin situations and restores youthful skin! Lifetrons Ultra Facial Lift is definitely what you need.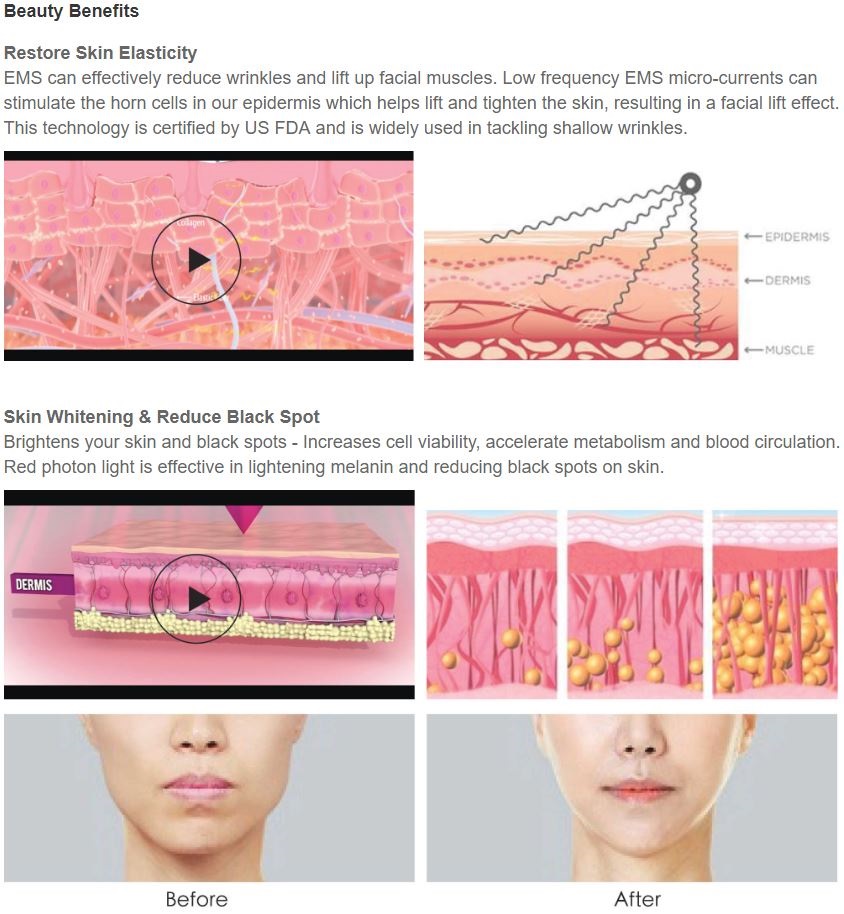 Product Features
Lifetrons Ultra Facial Lift is designed especially for face treatment. The three interchangeable treatment heads can effectively reduce wrinkles, lighten dark circles, reduce eye bags and whiten our skin tone.
3-in-1 design with interchangeable massage heads for eye and face care
4 levels of facial treatment intensity depending on your skin's needs
Low-frequency micro-vibration may help stimulate facial muscles, improve blood circulation, relieve fatigue and reinvigorate skin
Microcurrents may contour and tone the facial muscles for a lifting and firming effect on the skin
Red photon light may help diminish wrinkles, promote collagen production, reduce fine lines, fade dark spots and even out skin tone
Helps enhance the absorption of your skincare's active ingredients
Product Specifications
Materials: ABS (Acrylonitrile Butadiene Styrene), medical-grade stainless steel, electroplating
Battery capacity: Lithium polymer, 1200mAh
Micro-USB output: 5V
Power supply: Recharge via micro-USB port
Charging time: 3 hours
Micro-vibration frequency: 130/200Hz Max.
Red light wavelength: 630 +/- 10 nm
Designed in Switzerland
Assembled in China
Dimensions: 123 x 61 x 35.5 mm
Weight: 120g
What's Inside
Ultra Facial Lift main body
Facial massage head
Eye massage head
Red photon light head
Micro-USB charging cable
Eye protection goggles
User guide
Limited Warranty: One-year international warranty (or as required by law)
Caution
This product is not waterproof - do not expose inner electrical components to liquid or moisture
Keep out of reach of children, small parts may cause choking
Please ensure that the unit is fully charged before use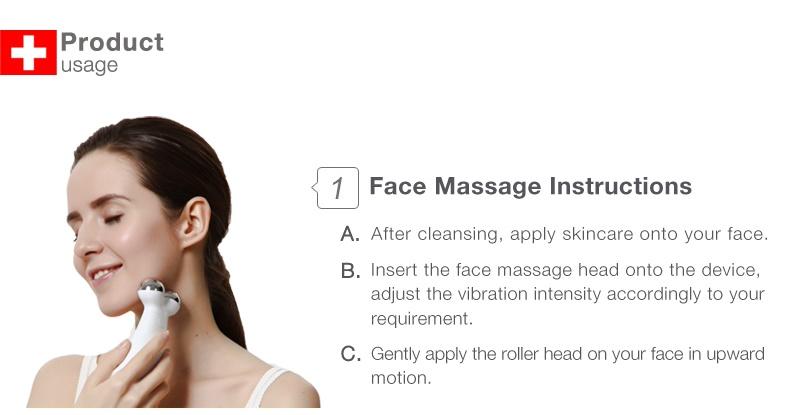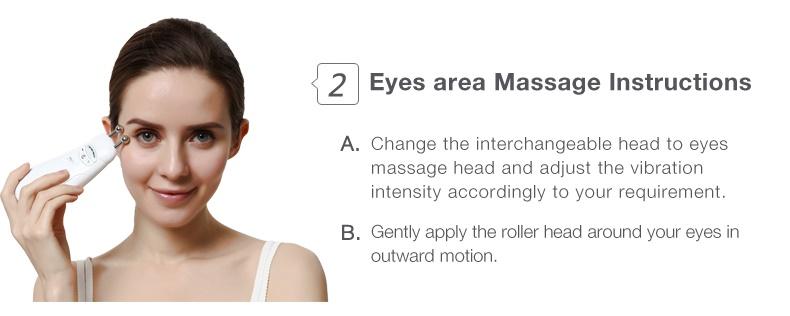 Customer comments
| Author/Date | Rating | Comment |
| --- | --- | --- |