Lifetrons Photo Essentials 5 In 1 Premium Lens Set (FG-6030N5IN1-BK)
Sale price

S$ 95.39

Regular price

S$ 128.90
Free Delivery Orders in Singapore (No minimum purchase required)
🎁Received additional Surprised Gift (Worth $21.80) with Every Order in Singapore only!
Share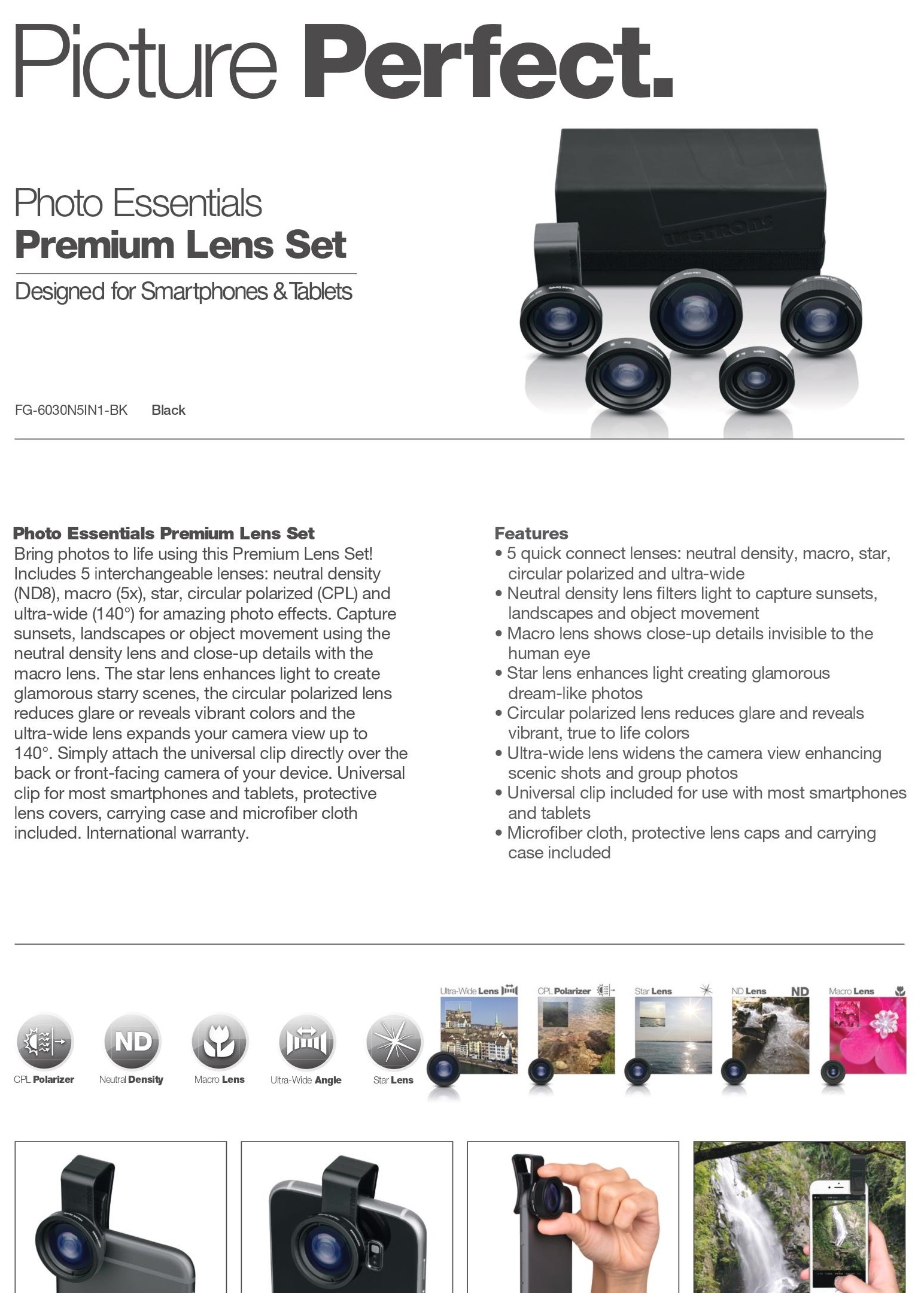 The Premium Lens Set includes five interchangeable lenses: neutral density (ND8), macro (5x), star, circular polarized and ultra-wide (140°) for excellent photo effects.
Attach the universal clip over the camera of your smartphone or tablet and screw in a lens to enhance your photographs!
Compatible with most smartphones and tablets.
Universal clip, protective lens covers, carrying case and microfiber cloth included.
Features
Create incredible photos and unique videos using these lenses with your smartphone or tablet
Five quick connect lenses: neutral density, macro, star, circular polarized and ultra-wide
Neutral density lens filters light to capture sunsets, landscapes and object movement
Macro lens shows close-up details invisible to the human eye
Star lens enhances light creating glamorous dream-like photos
A circular polarized lens reduces glare and reveals vibrant, true-to-life colours
Ultra-wide lens widens the camera, view-enhancing scenic shots and group photos
Universal clip included for use with most smartphones and tablets**
Microfiber cloth, protective lens caps and carrying case included
1. Using the Neutral Density (ND8) Lens
Use this lens to capture object movement in scenes, e.g, with water, people or sunsets. This lens blurs movement and brings still shots to life.
2. Using the Macro (5x) Lens
Use this lens to get close-up photos with breathtaking details. For best results, focus the lens at a distance of 10-23mm from the object. This lens is excellent for photographing flowers, water drops, insects and other detailed subjects.
3. Using the Star Lens
Use this lens to transform light sources into stars for dream-like photos. More substantial light sources and contrasts in scenes, e.g, candle flames, sunlight, street lamps or headlights, will produce a more significant star effect.
4. Using the Circular Polarized Lens (CPL)
Rotate the front of the lens left or right to adjust the level of light entering until the desired effect is achieved. Use this lens to reduce glare or reflection on highly reflective surfaces e.g., water, windows or glass. Alternatively, this lens can achieve saturated, vivid colours outdoors in bright, sunny conditions.
5. Using the Ultra-Wide (140 degrees) Lens
Use this lens to widen the camera view by 140 degrees, enhancing scenic shots, landscapes and group photos. If dark shadows appear in the corners, simply zoom until they disappear.
Compatibility tested with
iPhone 6 Plus, iPhone 6, iPhone 5s, iPhone 5c, iPhone 5, iPhone 4s, iPhone 4
iPod touch (5th generation)
iPad (3rd and 4th generation), iPad Air 2, iPad mini 3, iPad mini 2
Samsung Galaxy A7, S6 Edge, S6, S5, S4
What's Inside
Universal clip for most smartphones and tablets**
Neutral density lens
Macro lens
Star lens
Circular polarized lens
Ultra-wide lens
Protective lens covers
Microfiber cloth
Carrying case
User guide
Specifications
Clip materials: Polycarbonate, silicone rubber, metal
Lens materials: optical glass, metal
Lens type: neutral density, macro, star, circular polarized and ultra-wide lens
Weight: 62g
Limited Warranty: One-year international warranty (or as required by law)
Caution
Do not expose to liquid or moisture
Keep out of reach of children; small parts may cause choking.
Customer comments
| Author/Date | Rating | Comment |
| --- | --- | --- |