Lifetrons Photon Light Ion Massager (EM-400DS) - Rechargeable with Ion Technology & Photon
This product is a personal beauty device for the eyes area and facial skin. It is elegant, practical and easy to use. This product uses negative ion technology, low-frequency massage function, which can deeply promote nutrients into the skin and accelerate absorption.
The effect of soothing massage may help eliminate fine lines, oedema, fade dark circles, relieve eye fatigue, and make a pair of charming eyes. We add the red and blue photon light function to this upgrade version to improve more skin problems.
Features:
Negative ion may help import nutrients from skincare deep into the skin's layers for enhanced absorption
Micro-vibration massage may help relieve fatigue and revitalize the skin
Compact and light-weight
Portable and easy to operate
Red light may help promote collagen proliferation, improve skin wrinkles, relaxation and other issues
Blue light may help anti-inflammatory and sterilization, improve the skin problem, acne and other issues
Rechargeable design with long-lasting battery life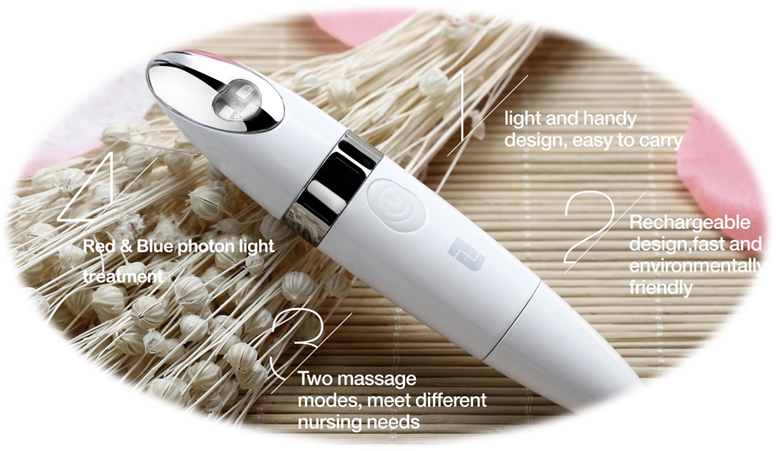 Functions:
Facilitate Essence Absorption: Negative ion helps skincare essence absorption which restores moisture and nutrient for skin and eyes area.
Get Rid of Eye Bags and Black Circles: 200 times/sec low-frequency vibration accelerates blood circulation around eyes and helps restore bright eyes.
Relieve Eye Fatigue: Low-frequency vibration massage effectively relieves eyes fatigue and dryness.
Red photon light (630 ± 10nm) may help enhance skin cell activity, promote cell metabolism, accelerate blood circulation, improve elasticity and reduce melanin while giving skin a smooth and glossy appearance.
Blue photon light (415 ± 10nm) may help thoroughly kill bacteria in hair follicles, rapidly curb inflammation, adjust sebum production, reduce acne, and quickly ease swelling and inflammation
Treatment Mode:
Micro-vibration massage mode: Press the power button one time to turn it on. Hold the conductive strip, and touch your skin with a massager to massage your eyes area and face based on the skincare procedure.
Micro-vibration massage + Blue photon light mode: Press the power button twice to turn it on. Hold the conductive strip and touch your skin with a massager to massage your eyes area and face based on the skincare procedure.
Micro-vibration massage+ Red photon light mode: Press the power button three times to turn it on. Hold the conductive strip and touch your skin with a massager to massage your eyes area and face based on the skincare procedure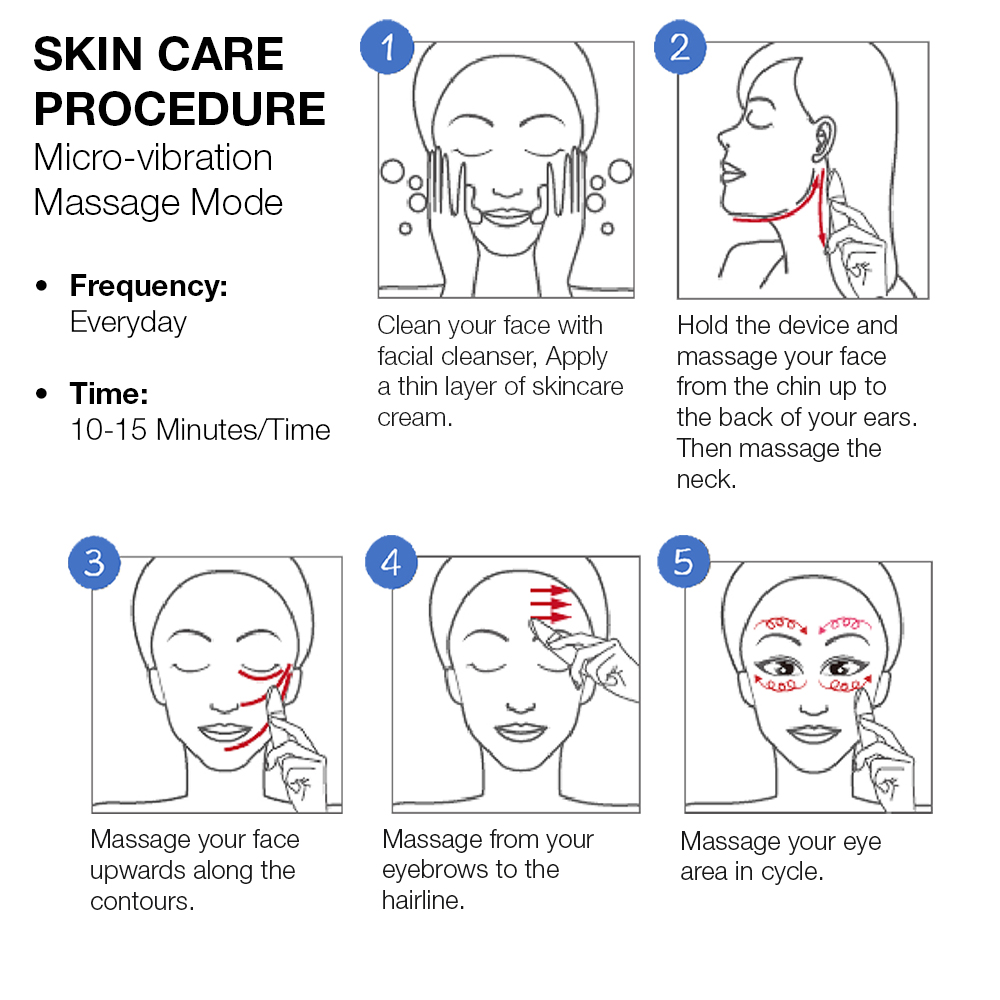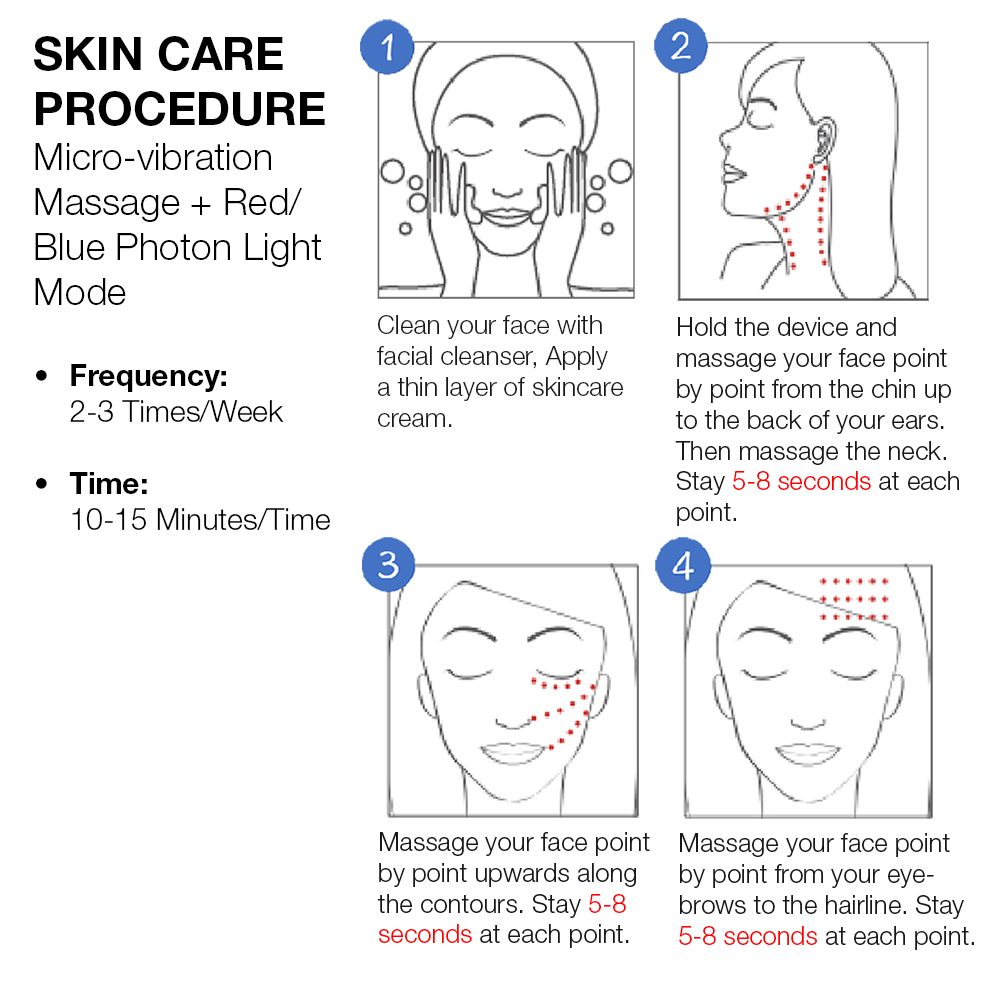 Specifications:
Materials: PC (Polycarbonate), ABS (Acrylonitrile Butadiene Styrene), electroplating
Battery capacity: 190mAh
Power supply: Recharge via USB
LED red light wavelength: 630±5nm
LED blue light wavelength: 415±5nm
Micro-vibration frequency: 130-200Hz
Working voltage: 3.7V
Power: <1 W
Working time: Around 2.5Hr
Applicable area: Eye & Face areas
Designed in Switzerland
Made in China
Dimensions: 133.57x25.59x25.59mm
Weight: 41.5g
What's inside:
Photon light ion massager
User guide
Limited Warranty: One-year local warranty against manufacturing defects
Cautions:
This product is not waterproof - do not expose inner electrical components to liquid or moisture
Keep out of reach of children, small parts may cause choking
It is recommended that you completely use the initial charge up, then recharge the product at least two more times to ensure the best possible performance
Please fully charge the battery at least once every 3 months if the product is not used for a long time
Customer comments
| Author/Date | Rating | Comment |
| --- | --- | --- |